Your relationship with your partner is unique and beautiful, so your wedding rings should be as well! Here at Max Diamonds, we are uniquely experienced in helping same-sex couples design custom wedding rings that best represent the loving relationship between you and your partner.
From the moment you step into our Sydney showroom, we will support you at every step in the process. Whether you're coming prepared with an idea of what you want, or you're starting completely from scratch, our designers will work with you to design a ring that perfectly embodies and represents your relationship. Our experienced jewellery designers can show you similar ring designs and features, help you choose a stunning diamond, before providing you with a sketch to show you exactly what your new rings will look like.
That said, it's always good to have a rough idea of what you and your partner are looking for. Do you prefer gold or platinum? Minimalist or intricate? The choice is completely up to you, but in the meantime, we've put together a few custom ring ideas to get those creative juices running.
FOR THE GENTS
Brushed and Polished Same Sex Rings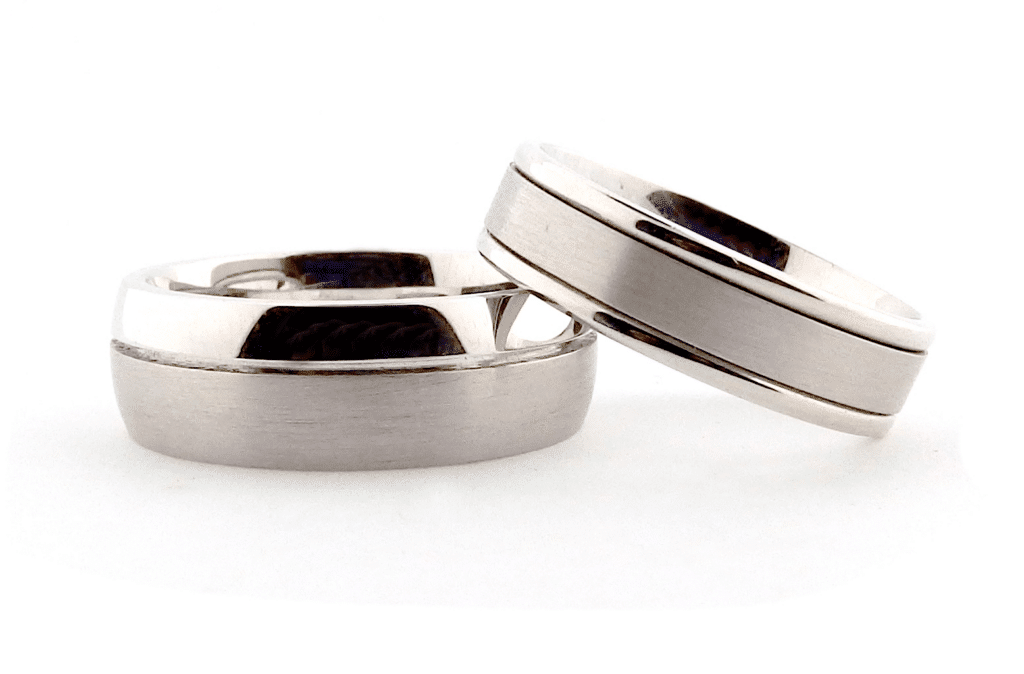 If you're both a fan of polished metals, you'll love these brushed and polished wedding rings, as you can see, although the rings are similar and feature the same finishing effect, they have been applied in slightly different designs to make each one unique.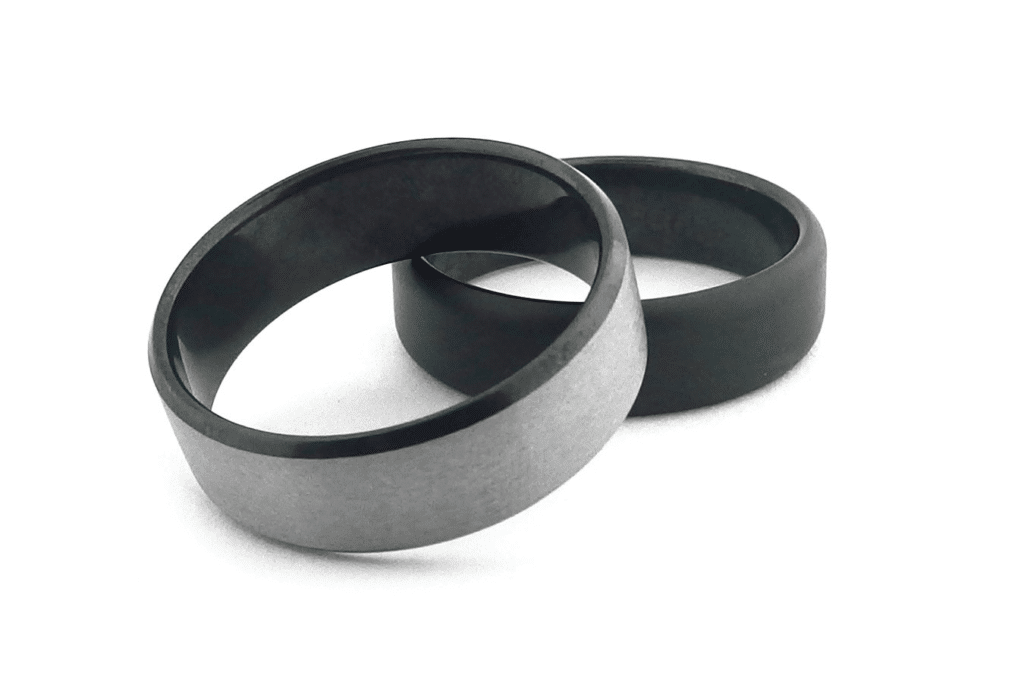 Feel like something a little bit darker? Then why not choose zirconium? These two rings are equally striking in their own ways, featuring a bold black design which ties the two together.
White Gold Ring Set with Black Diamonds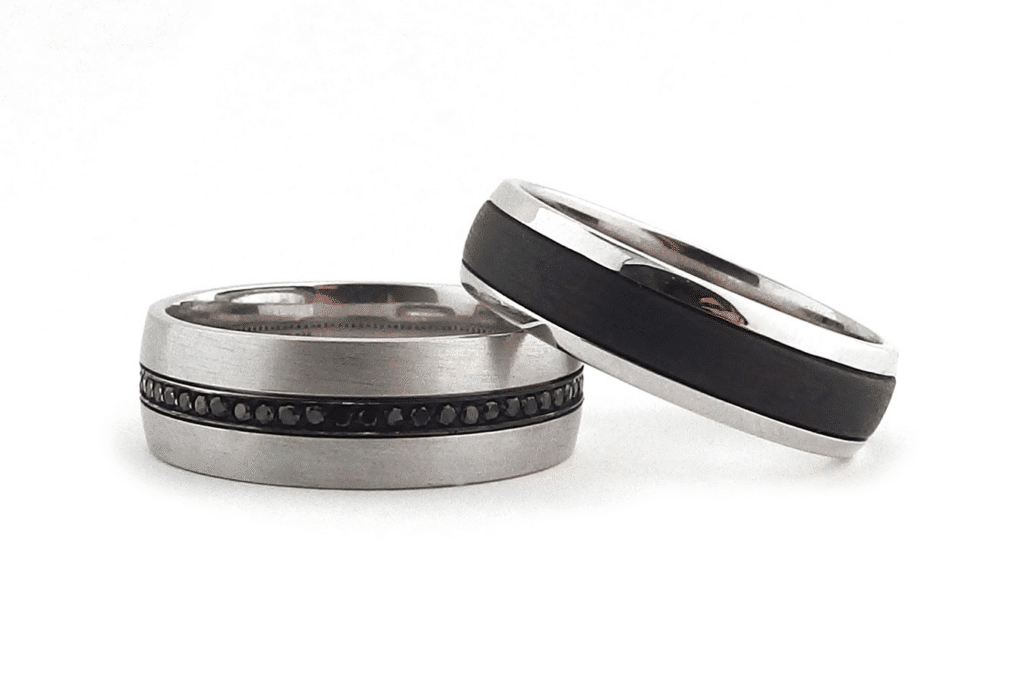 If one of you likes a bit of sparkle, there's no reason you can't indulge in a few sexy black diamonds! This white gold ring set has both rings featuring a jet black strip in the middle, with one ring using diamonds to stand out.
FOR THE LADIES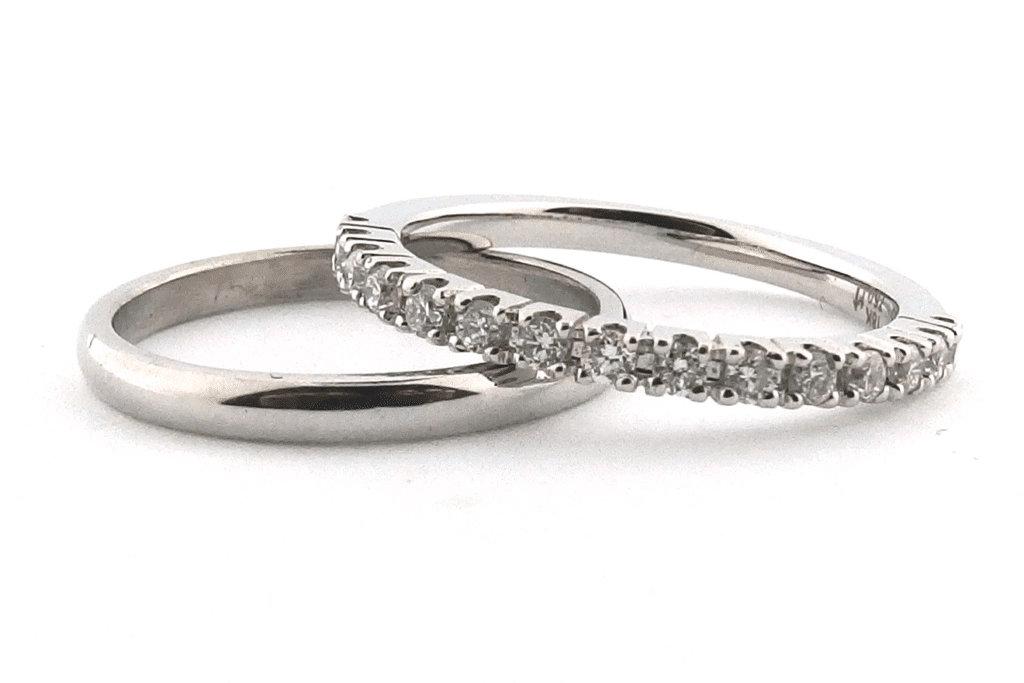 For the ladies, there's no reason your rings need to match. If one of you prefers the sparkle of diamonds and the other prefers something sleeker and more subtle, you'll adore this pair of classic and diamond set rings. They're unique enough to speak to your individuality, while still being tied together with their elegant design.
Matching Sapphire and Diamond Bead Set Rings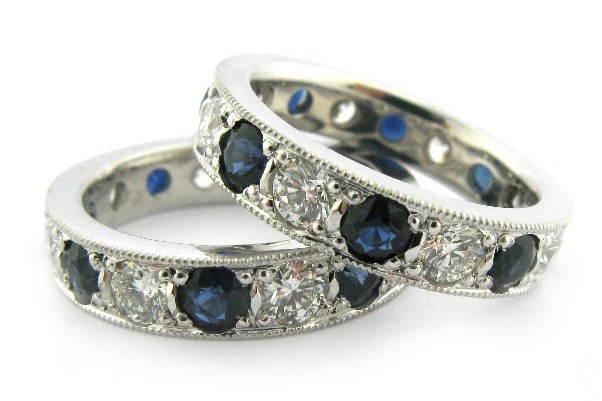 That said, if you both want to share the same ring design, why not go for something bold and striking that embodies your shared aesthetic? For example, these 18ct white gold matching pair of sapphire and diamond bead set ladies rings are a lovely example of using two different birthstones in an intertwined pattern.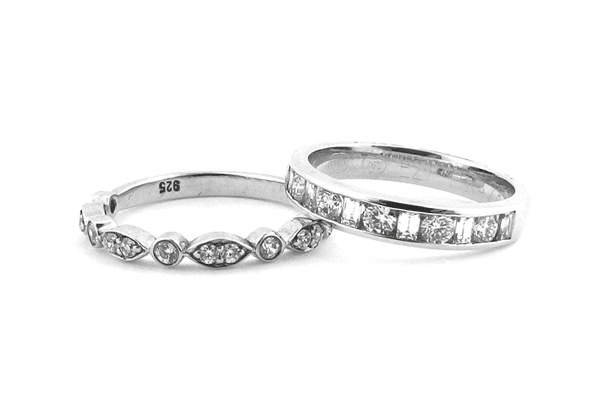 If you and your partner have different styles, you can still use jewels as the common link between your two rings. As you can see in this example of 18ct white gold ladies diamond wedding bands, both use diamonds but have them set in very different and unique shapes that each to two very different personalities.
Here at Max Diamonds, we love working with couples to create rings that speak to their personalities. Get in touch with our team today or view our range of same-sex rings for some inspiration!