CAD Designed Engagement Rings
MAX Diamonds offers clients a CAD (Computer – Aided Design) 3D printing service of their jewellery. Using vector or raster-based graphics to produce a highly accurate, technical drawing of a 3D or 2D image, the CAD service at MAX Diamonds also allows you to print out a 3D printed wax model of the design, giving you piece of mind in knowing how the final product will look.
Simply put, the CAD service is a great option if you are unsure of how your finished ring will look and want the reassurance of a 3D computer image and/or wax model to approve before you go ahead. Please note that this process takes longer than hand making (allow approximately 4 weeks from start to completion).

Step 1
You have a consultation with a MAX Diamonds designer and discuss the design you are looking for, and decide on the diamond you would like to have in your ring. Together, you go over all your ideas for the design.

Step 2
Your expert and qualified MAX Diamonds consultant will send you through the CAD designs from different angles to approve, or discuss changes before the casting is made.

Step 3
After the ring is finished, you come in to view the ring and make sure that you are 100% happy with the finished ring before you take it home.
This is an exciting process to work with and we are thrilled to be able to offer it as a different option to our handmade rings. Contact us today for a free no obligation quote.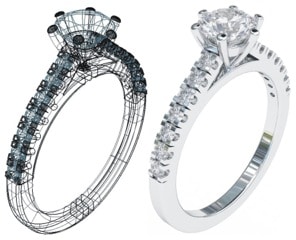 Let's Talk
Schedule An Appointment or Consultation
Book your private consultation today with one of our experienced designers, diamond graders, and gemmologists. We are now offering face-to-face and virtual appointments.