Q-Report Jewellery Insurance
After all the excitement and emotion of the proposal and wedding, the jewellery you have purchased has a very personal and often a significant financial value attached to it. The last thing you would want to happen is for it to be lost if you have not had it insured.
Unfortunately no matter how careful you are, jewellery does get lost or stolen from time to time. We have heard many very sad stories of rings being lost whilst swimming, kayaking, falling out of a pocket or taken by a thief when a customers home has been broken into.  The only way to protect yourself from this is to have your special jewellery pieces insured.
There are a few options with insurance – you can ask your existing insurance provider for jewellery insurance (For example, add the jewellery to your existing home and contents insurance), research a separate insurance policy with a new provider, or you can take out separate jewellery insurance independently with Q Report.
MAX Diamonds is a Q Report Certified Jeweller. We get asked weekly about insurance so we undertook our own research to find a company we could recommend to our customers.
Q Report specializes in jewellery insurance. We have all the details and information about your jewellery as we made it so you just need to ask us to set it all up for you and you will be insured worldwide the minute you leave the showroom.
On top of insurance, we have some tips to minimize loss or damage to your jewellery.
Never wear jewellery whilst swimming in the ocean – this is by far the most common cause we hear of  jewellery loss.
The safest place the rest of the time to have your jewellery is worn on your finger for rings – it is perfectly fine to wear rings whilst showering, washing up etc.
If you do need to take it off, store your valuable jewellery in a locked safe if you need to remove it for sport or any physical work you may be doing with your hands.  (Weight lifting, gardening, laboring etc)
If your ring is loose, make an appointment with us to have it resized- it should not slip off your finger easily when fitted correctly.
If you are traveling to a country or place that has a high crime rate,  it is best to leave your valuable pieces in a safe at home unless you have them fully insured.
It is a good idea to have clasps, settings and any movable parts to your jewellery checked by us every 6 months to a year – come in for a coffee and a free clean and check – just contact us to arrange a time that suits you.
Get an instant quote by clicking here:  https://www.qreport.com.au/jewellery-insurance-australia
For further information and advice about jewellery insurance, call Q Report on 1300 882 018, visit their website on: https://www.qreport.com.au/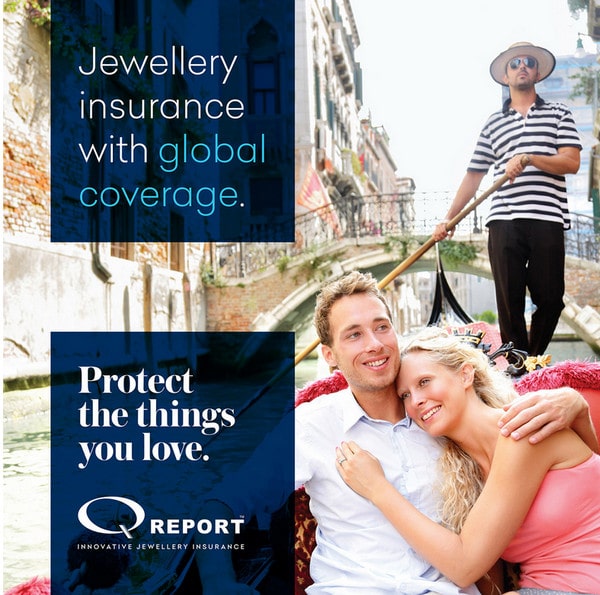 Let's Talk
Schedule An Appointment or Consultation
Book your private consultation today with one of our experienced designers, diamond graders, and gemmologists. We are now offering face-to-face and virtual appointments.