Now that you're engaged, you're probably thinking about what sort of wedding rings you and your partner should invest in. Traditionally, most wedding bands have been simple and elegant and made from a single metal. However, times are changing and more couples are choosing to go bold and colourful! We're loving this new trend of vibrant wedding rings, and here's why: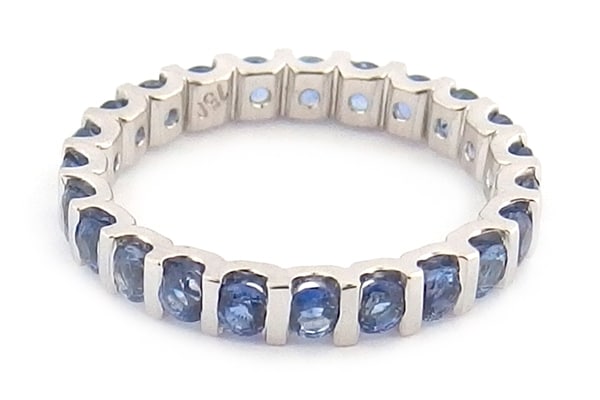 1. You can express yourself with colour
When you decide to look at coloured stones in your wedding ring, a whole world of choices suddenly opens before you. Although diamonds are beautiful and can come in a variety of colours, there's nothing quite like the inner fire of a ruby or the lush green of an emerald. You can not only choose a jewel of your favourite colour, but perhaps something that represents the joining of your two families. This could be anything from including the birthstone of your partner or (if they have children), the birthstones of your new family.
2. You can experiment with design and metals more
Wedding bands typically come in metals like gold (yellow, white and rose) and platinum within a simple design. However, when you start to incorporate colour, you can experiment with the design of your rings and the metals you choose. For example, including a sapphire in a titanium ring can result in a dramatic and bold look. Alternatively, you could look at custom settings which accentuate your coloured stone and give it the appearance of a flower nestled in silvery leaves, or the glowing green eye of a golden snake. The possibilities are endless!
3. Coloured gems can accentuate diamonds
Just because you've chosen to go with colour, doesn't mean you can't have a beautiful white diamond as well! In fact, most rings will combine the use of diamonds and coloured stones for a truly striking effect. For example, certain stones will complement and accentuate the blue and red tones of a diamond's scintillation and fire. Similarly, there are also designers who like to use stones that "clash" with a diamond's inner fire to create a ring that is vividly contrasting.
4. You have access to stones that are rarer than diamonds
If you are someone who likes to stand out from the crowd, you will love the fact that many coloured stones are rarer than diamonds! If you love intense shades of ultra-violet, you should consider tanzanite, a stone that rivals the colours of a sapphire. For beautifully deep reds that hold a vivid fluorescence, consider a Burma Ruby. Our personal favourite is the rainbow-coloured Alexandrite. Named after the former czar of Russia, this beautiful gem can change colours throughout the day, varying from peacock blue to amethyst purple to ruby red.
Whatever design you want for your same-sex wedding rings, the team at Max Diamonds are excited about helping you find your perfect match. Get in touch with our team today to find out more.