When it comes to engagement rings, bigger is sometimes better – especially if you want to show off that sparkling diamond. Not all shapes are created equal, which is why we've put together this handy list of cuts that will really give your diamond that wow factor on a modest budget.
Oval Cut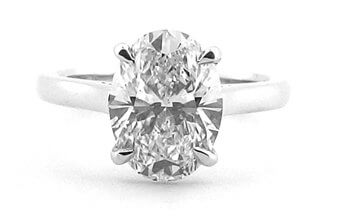 Similar to round and brilliant diamonds, oval-cut diamonds boast incredibly sparkle, which helps them to appear larger than they actually are. However, unlike round diamonds, the oval cut has a distinct advantage – its elongated shape. People generally assume that taller shapes are larger, and so the length of an oval-cut diamond creates a visual illusion that helps this stone to look much bigger. It also creates the appearance of longer lines, which make the finger appear thinner!
Get the look: Platinum Oval Diamond Ring with a Fine Four-Claw Setting
Pear Cut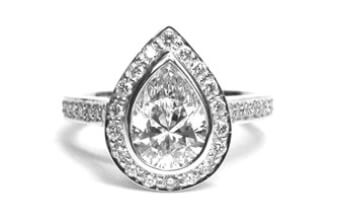 Like the oval cut, the pear cut helps diamonds look bigger than it is thanks to its elongated shape. The main difference between these two cuts is that a pear-cut diamond features slightly shaved sides which create a more dramatic effect as the diamond tapers down. This means that when people are looking at your ring, they will see the wider surface area, which is only emphasised by the narrow tapering point.
Get the look: Bezel-Set Pear Shape Diamond Halo Ring
Emerald Cut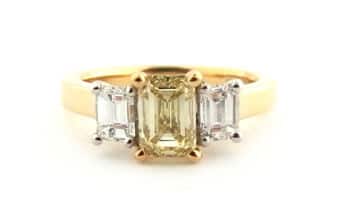 Uniquely different and showcasing straight lines and geometric angles, the rectangle shape and large table of an emerald-cut diamond help it to look far larger than it actually is. In addition, the unique that the stone is cut means that it creates a "hall of mirrors" illusion which gives this diamond additional depth and dimension.
Get the look: Yellow Emerald-Cut Diamond Ring with Two White Emerald-Cut Side Diamonds
Marquise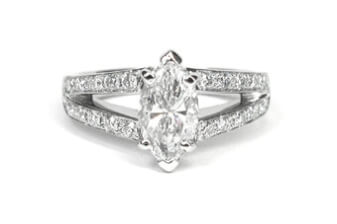 Last but not least is the marquise cut. This is not a shape that you will see every day, but the marquise cut has actually been around since the time of King Louis XV and coasts the largest surface area of all the shapes. Due to its long shape which tapes to a point at either end, the marquise has the benefit of both making the stone appear bigger and your finger more slender.
Get the look: Marquise Diamond Ring with a Split Diamond Set Band
Are you looking for a stunning diamond ring that will impress? Check out our amazing range of diamond rings in a range of cuts or visit us in-store.