As coloured gems become more popular with both jewellery and engagement rings, coloured diamonds are also increasingly desired. These eye-opening jewels come in a wide range of stunning colours including yellow, orange, pink, red, brown, blue, black and green – and are known as fancy-coloured diamonds. Today, we'll be focussing on the golden sunlight shimmer of fancy yellow diamonds.
What is a yellow diamond?
Of all the coloured diamonds, yellow makes up 50-60% of all naturally coloured diamonds, making it the most common colour. Because of this, these stunning diamonds usually cost less than other colours, but this can vary depending on the intensity of colour.
Fancy yellow diamonds get their colour from traces of nitrogen found in diamonds and are not to be confused with lower-grade white diamonds. You can identify a fancy yellow diamond if it has more colour than the Z colour grade for colourless diamonds.
How are yellow diamonds graded?
Colourless diamonds are graded from D to Z, but fancy yellow diamonds use a completely different grading system. Graded on their intensity of colour, the various grades of yellow diamonds include:
Faint Yellow
Very Light Yellow
Light Yellow
Fancy Light Yellow
Fancy Yellow
Fancy Intense Yellow
Fancy Vivid Yellow
Fancy Dark/Fancy Deep Yellow
What are canary diamonds?
Canary yellow diamonds (a.k.a. Fancy vivid yellow diamonds) are the most exclusive, valued and sought-after of all the yellow diamonds. Because of their deep and vibrant hue, they tend to be more highly valued than other yellow diamonds.
What is the best setting for a yellow diamond?
Once you've decided on a yellow diamond, the next step is to choose your engagement ring setting! Unlike white diamonds, yellow diamonds really give you a unique chance to contrast and complement your ring with the use of various metals and finishes. Depending on whether you choose platinum, white gold, yellow gold or rose gold, the colour of your diamond (and its sparkle) can appear differently. For example, intense and vivid Canary yellow diamonds pair beautifully with light metals such as white gold or platinum.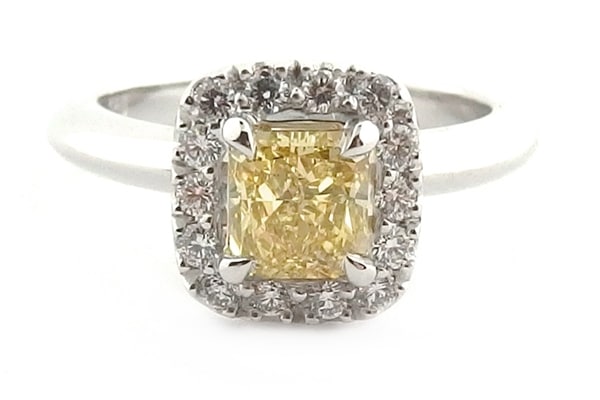 See our Yellow Cushion Cut Halo Ring featuring one natural fancy intense yellow radiant cut diamond weighing 0.81ct claw set in a handmade 18ct white gold ring with a halo of 0.015ct round brilliant cut diamonds (G colour SI clarity) claw set with a knife edge band.
Alternatively, a darker setting such as rose or yellow gold can add depth and vividness to a lighter coloured diamond.Get in touch with the team at Max Diamonds today or view our extensive range of diamonds, wedding rings and engagement rings.