Looking for same sex engagement rings or wedding band design inspiration? We've got you covered.
From dainty diamond rings to striking Zirconium bands, each of these designs are stylish enough to sit solo on your ring finger as a bold statement piece, or be stacked on top of your engagement ring.
There are really no requirements you must fulfil when choosing or designing your wedding ring, outside of selecting one you love. No matter whether you're after a solid gold band or a glittering diamond ring, there's a wedding ring design out there for everyone: you just need to take the time to find it.
To help you get started on your journey of finding the perfect same sex engagement rings or wedding bands for your special day, here are 5 of our favourite matching wedding band designs for LGBT couples.
Zirconium Rings

Sleek, striking and stylish, Zirconium rings are becoming increasingly popular for male engagement rings or wedding bands – and for good reason. The beautiful black colour of zirconium rings doesn't taint or tarnish as easily as other metals. It's famous for its durability and scratch resistance, so you will still have it looking great after years of day to day wear. Zirconium is also hypoallergenic, making these rings particularly appealing for individuals who are allergic or sensitive to metal.
Matching claw set diamond rings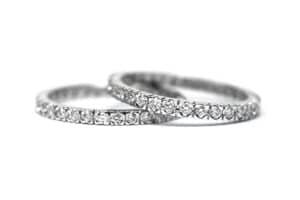 An elegant and timeless option, our matching claw set diamond rings are designed to enhance the existing beauty of your engagement ring. Wedding bands like these don't go out of style and are sure to last forever. Made from distinctive 18ct white gold, this luxurious full circle of brilliant cut diamonds is sure to attract the attention of your fiancee and her friends and family.
Sapphire and diamond bead set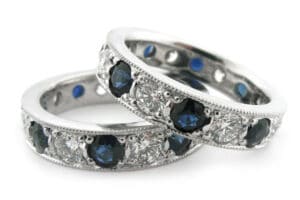 Looking for something truly unique? Our sapphire and diamond bead set offers a modern spin on an antique look. Sapphires make a gorgeous addition to any ring and when they share the spotlight with the unmistakable glint of colourless diamonds, it's truly the best of both worlds. As a unisex wedding band option, this ring is perfect to sit alone on your ring finger, or be accompanied by an additional engagement ring.
White gold and titanium mens rings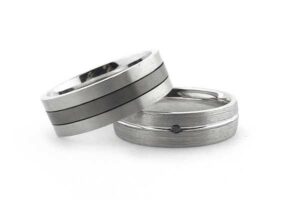 Struggling to choose between gold or titanium? Why not switch things up with our white gold and titanium mens rings. With a distinctively modern feel, these bands seamlessly combine two looks into one. Multi-tone unisex wedding bands are currently a popular style as they offer a unique alternative to single-tone rings. These captivating rings are predicted to become a staple wedding band design due to their simplistic yet classic look.
Split band rings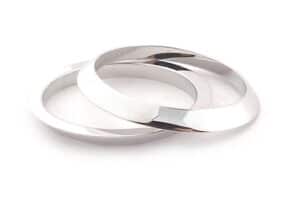 Our split band rings embrace simplicity, by balancing in the delicate intersection between subtlety and boldness. This unisex wedding band also offers an utterly simple alternative to diamonds and gemstones if they're not your style. Made from 18ct white gold, these elegant split band rings are the perfect option for anyone looking for a neutral, modern wedding band design that complements other rings. Designed to compliment the rings they are stacked with, split band rings can either be worn beneath a diamond engagement ring or be paired with any of the gold, titanium, zirconium or sapphire rings listed above. Each pair of split band rings form two halves of a whole, mirroring the couple that wears them.
Captivated by any of the above rings, or have another design that you just can't get out of your head? For more beautiful same sex engagement rings in Sydney, explore the rest of MAX Diamonds' boutique engagement and wedding band collection.