As Spring hits our streets, flowers start blooming, birds start singing, and love is in the air. Couples, designers and jewellers are getting more creative than ever when it comes to engagement rings. Last year, we saw the rise of yellow gold, intricate details and floral shapes, but Spring 2021's engagement ring trends are set to deviate from some of these trends.
Whether you've already picked out the ring of your dreams, or are just starting to look at options, it's still a great idea to arrive armed with the latest engagement ring trends and styles of the season. So here's what you can expect to be hot in Spring 2021.
Personal Details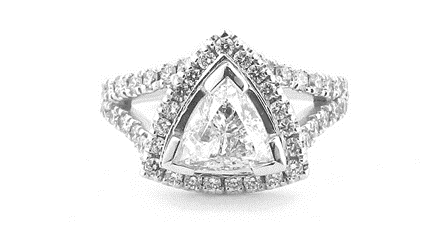 What is the most popular engagement ring style? Over the past year and a half, couples around the world have been forced to put their weddings on hold, but it's only given everyone more time and space to think about the type of engagement rings they want. We're seeing an increasing trend of couples who want rings with personal and thoughtful details, opting for custom engagement rings that incorporate meaningful messages.
Get the look: Design your own engagement ring with our qualified jewellers and designers.
Band Style Rings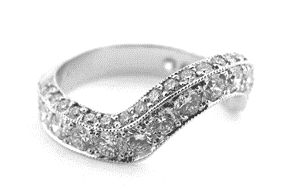 It's also about band-style engagement rings in Spring 2021. As we previously mentioned, couples are having to delay and reschedule their wedding plans, with many postponing their big day for the foreseeable future. And so, brides and grooms are turning to rings that can serve as both an engagement ring and wedding band. Also known as band-style rings, these engagement rings have a seriously cool look that works for both brides and grooms. Bold and beautiful, these rings an array of different features, including cigar bands, diamond features, signets, and eternity bands.
Get the look: Shaped Ring with Double Row of Diamonds featuring a double row of diamonds set in 18ct white gold.
Heirloom-Inspired Cuts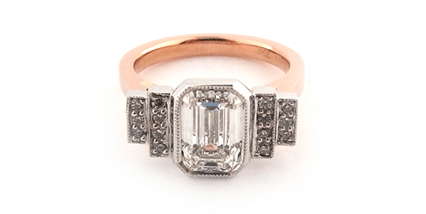 In a year when we've all been kept apart, family ties are more important than ever, and many couples are thinking about the long-term future and potentially building their own families. With that comes choosing engagement rings that feel like heirlooms – pieces that will be handed down to future generations over the years. And so, we are seeing a focus on engagement rings with heirloom-inspired designs and details. Think intricate touches like filigree, elaborate halos and milgrain for a vintage and antique feel.
Get the look: Rose Gold Emerald-Cut Art Deco Ring featuring one natural emerald-cut diamond bezel set with a milgrain edge set in an 18ct rose and white gold ring with 14 round brilliant cut diamonds bead set with a milgrain edge.
Green with Envy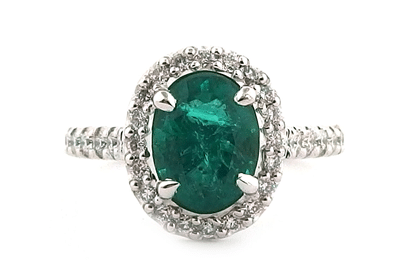 Sapphires have been incredibly popular ever since Princess Kate's famous sapphire engagement ring. However, we're starting to see green as emerald engagement rings take the fore. These vibrant and rich gemstones are perfect for any skin tone, with darker emerald hues complementing fair skin and vibrant greens bringing out the gold undertones in darker skin.
Get the look: Handmade 18ct White Gold Emerald Ring featuring one natural 1.49ct Columbian emerald set in 18k white gold ring with a halo of 20 diamonds and band with 24 diamonds.
Are you looking for a gorgeous engagement ring to celebrate your love this Spring? Get in touch with the team at Max Diamonds today or visit us in-store.