2020 may have been a crazy year with many weddings put on hold, but that didn't stop couples from celebrating their love with engagements all over the world. As we come close to the end of 2020, we wanted to look back at some of the most popular and adored engagement ring styles of the year.  
Emerald-Cut Diamonds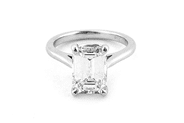 Elongated cuts such as the emerald cut skyrocketed in 2020, with Pinterest searches for "elongated engagement rings" up a massive 143%! We have no doubt this is due to many celebrities like Demi Lovato, Emily Weiss, Nicole Peltz and Amanda Bynes showing off their elegant styles. 
Get the look with our Classic Emerald-Cut Diamond Ring which features one natural emerald cut diamond set into a four claw 18ct white gold ring.
Oval Diamonds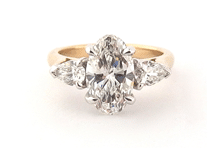 Carrying on the elongated shape trend, oval-shaped diamonds have been one of the most popular diamond shapes of 2020. While celebrities like Blake Lively kicked off the trend, 2020 has seen names like Hailey Bieber, Sarah Hyland and Bindi Irwin expressing their love for the elegant shape as well. Simple and elegant, this shape is flattering on any finger. 
Get the look with our Oval Diamond Ring with Pear-Shaped Side Stones set in a hand made 18ct yellow gold ring with 18ct white gold settings.
Yellow Gold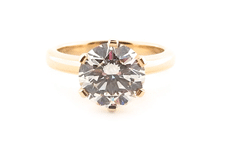 While rose gold has seen huge popularity over the last couple of years, yellow gold rose to the fore in 2020. This classic colour is making a comeback, and it's no surprise considering gold complements both diamonds and coloured gemstones. For brides wanting a look that will stand the test of time, you can't go past gold. 
Get the look with our Classic Yellow Gold Solitaire Round Brilliant-Cut Ring which features one natural round brilliant cut diamond weighing 2.00ct (G colour VS2 clarity) 6 claw set in 18ct yellow gold handmade ring with a soft round tapered band.
Thin Bands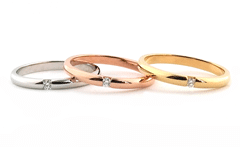 A return to classic gold bands has also been accompanied by a return to minimalist designs. The idea of "less is more" has been firmly embraced and many brides are choosing for delicate, thread-thin bands that bestow an air of elegance, while also making the stone look even larger!  
Get the look with these delightfully dainty Stack Rings which feature three rings in 18ct white, rose and yellow gold that can be worn together or separately.
Asscher-Cut Diamonds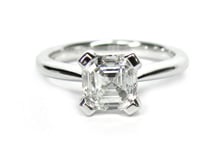 The Asscher- cut was a staple of the Art Deco age, but it seems that this vintage look saw a huge resurgence in 2020. Paired with a gorgeous band, this striking look can be adapted to any bride who wants to stand out and show of her own personal style. Shine event brighter when you choose this less common shaped diamond to a create a truly one-of-a-kind engagement ring. 
Halo Rings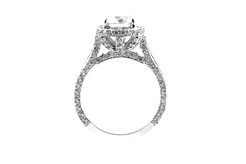 The sparkle of a halo ring has always been popular with brides who love to shine. However, this year, we've seen a growing popularity with hidden halos that offer an extra bit of bedazzlement. This streamlined look draws the eye of the centre diamond, while being paired with impactful details that make this a truly luxurious ring. 
Get the look with our Brilliant-Cut Diamond Claw Set with A Fine Halo Of Diamonds featuring one natural round brilliant-cut diamond weighing 1.33ct set in a handmade 18ct white gold ring with 0.005ct and 0.01ct diamonds over the sides, top, halo and claws. 
Are you looking for the perfect engagement ring? Get in touch with the team at Max Diamonds to view our entire range, or chat to us about creating your very own custom engagement ring.