When it comes to engagement rings, you have the option of different stones, metals, and designs. However, one small detail which can often make all the difference to your engagement ring's appearance is the setting. We break down the many settings you can choose for your engagement ring so you can decide which one is best for you.
Bezel Setting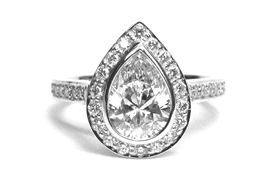 18ct white gold bezel set pear shape diamond
The bezel setting surrounds your diamond with a delicate metal rim. This option is usually custom-made to secure your stone in place and has a choice between a full bezel (which completely surrounds the diamond) or a partial bezel (which leaves the sides open).
Halo Setting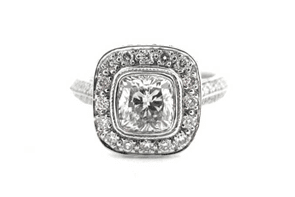 The halo setting usually adds some extra sparkle by encircling the centre stone with a ring of diamonds. Depending on how elaborate you want to go, the halo can be single or double and will help enlarge the appearance of your centre stone.
Channel Setting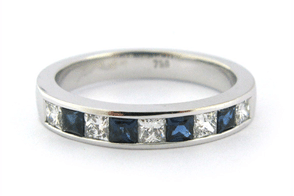 Blue sapphire and princess cut diamond channel set
If you want something more streamlined, a channel setting may be the ideal choice for you. Channel set rings will feature your diamond or gemstones placed within a "channel" and the stones are then held securely in place using grooves on both walls.
Pavé Setting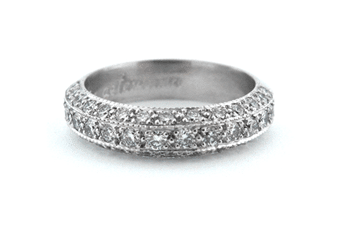 Three-row, bead set wedding ring
For a glittery masterpiece that sparkles and catches the eye, why not go with a pave setting? These types of bands are littered with tiny diamonds that convey a true sense of luxury and style.
Claw Settings
Finally, we have claw settings – the most common type of mounting used in diamond and engagement rings. These settings are incredibly versatile, not only providing fantastic security for your ring but also coming in a range of options.
Four-Claw Setting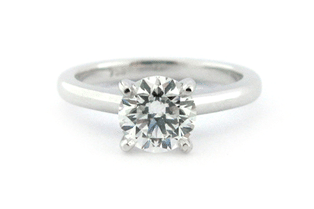 Classic four-claw diamond ring
The four-claw setting is the favourite for some as it showcases a large amount of the stone with its minimalist design and strikes the perfect balance between security and sparkel because there are fewer claws. This style of ring is also easier to clean, with less hidden spots for dirt to accumulate.
Six-Claw Setting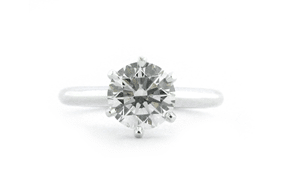 Chic and classic, the six-claw setting is a timeless look that's popular with round gemstones. While the extra two claws ensure greater security for your ring, it also means that this style tends to work better with larger diamonds as the claws hold the stone very securely.
Double Claw Diamond Ring Setting
In contrast to the single claw settings above, you may also choose a double claw setting. When compared with a single solid claw, this particular setting can give the illusion that the claws are slimmer, often making your diamond look larger!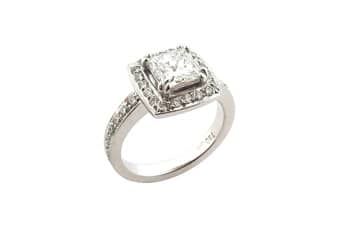 Button Claws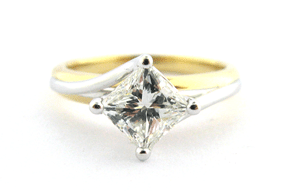 18ct Yellow and White Gold Ring
Finally, if you're looking for a setting that's cute and delicate, you'll adore the button claws setting. Often used with more fancy shapes like hexagons and pears, these prongs are rounded and look like tiny dots when viewed from the dot. Classic and feminine, these dainty claws will truly let your diamond shine.
The setting for your engagement ring can be anything you imagine. Get in touch with us to view our entire range of diamond engagement rings or arrange a viewing.