With their sleek and elegant lines, emerald-cut engagement rings have become increasingly popular over the last few years. Sophisticated and understated, emerald-cut diamonds may have a modern appeal, but their history dates back for centuries.
The history of emerald-cut diamonds
Although the official term "emerald cut" was coined in the 1920s, this design dates back to the 1500s. During this time, stone cutters used this shape on emeralds as it reduced the pressure during the cutting process, decreasing the risk of chips in the gem.
As time went on, the cut was improved. Diamond cutters and jewellers both realised that this particular cut would bring more fire and sparkle to diamonds, and so, the emerald cut gained even more popularity. By the 1920s, the term "emerald cut" was first officially used, and these cuts could be seen everywhere as Art Deco came into vogue.
What are the benefits of emerald-cut diamonds?
When you decide to invest in an emerald-cut diamond ring, it comes with a whole range of benefits.
Emerald cuts can make the stone look larger due to the greater surface area. For example, the average 1-carat diamond will have a 5% larger surface area when it's emerald-cut compared to a round-cut.
Emerald-cut diamonds can make your fingers look longer. Due to their unique and elongated shape, emerald cuts draw the eye along the length of the finger, making them appear more slender.
Emerald-cut diamond rings are quite rare. If you choose this cut, you'll be investing in a ring that is unique and special to you.
What is the best setting for an emerald-cut diamond?
The great news is that emerald-cut diamonds look amazing in a variety of settings.
A classic emerald-cut solitaire diamond ring is perfect for minimalist brides who want something sleek and understated.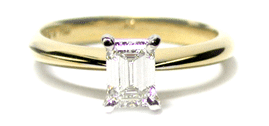 On the other hand, an emerald-cut art deco diamond ring is the ideal piece for ladies who love a bit of sparkle.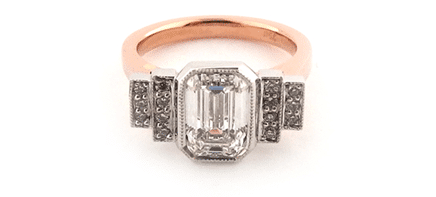 If you're a bride who loves bold and modern designs, then you'll adore the unique shape of a horizontally-set emerald-cut diamond ring.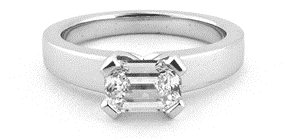 What size emerald-cut diamond should I buy?
The length, width, depth and size of your diamond is a very personal decision. When determining the ideal ratios of your emerald-cut diamond, divide the length by the width. This length-to-width ratio will determine whether your diamond is more square or rectangular. For example, a ratio of 1.6 will give a longer and thinner cut, while 1.3 will give your diamond a more square appearance. In general, most gemologists will recommend anything between 1.30-1.50
Choosing the depth percentage of your diamond will affect how much light it reflects. Due to the lines in an emerald-cut diamond, we recommend a table and depth percentage of 58-69% for optimal brilliance and shine.
Emerald-cut diamond engagement rings are a unique and beautiful option for stylish brides. Get in touch with the team at MAX Diamonds today or visit us in-store.