We may only be halfway through 2019, but love has definitely been in full swing. More than ever, LGBTQ+ couples are celebrating their relationships with proposals that are full of love and joy. Here are our favourite proposals of 2019 so far!
Fortune Cookie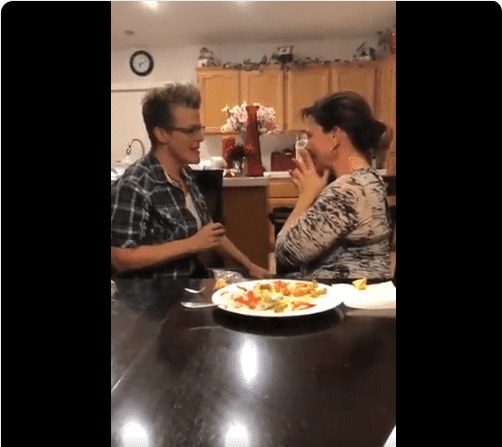 Not all proposals need to involve fireworks and speedboats. Sometimes, the best proposals take place in the comfort of your own home, surrounded by the people and things that you love. That certainly was the case with the adorable marriage proposal that went viral on Twitter.
Alaina Seger shared a video with the caption: "My mother's girlfriend just proposed! They are my favorite!" The video shows Alaina's mum, Teresa, opening up a fortune cookie to read a message "Will you marry me?". Her girlfriend Liesel, soon enters the, gets down on one knee, and pops the question to tears of happiness from everyone involved.
The double surprise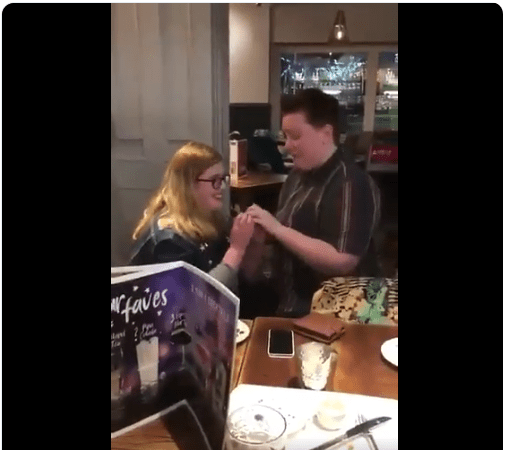 Earlier this year, Leo Rogers planned to propose to partner Ruth Wilkins. Leo, who identifies as non-binary trans masculine, had planned a surprise birthday where Leo was going to pop the question.
However, Ruth beat them to it! In an interview, Leo said:
"The proposal was a double surprise! She had been planning to propose since February but was waiting for the right time, and I'd suggested going out to dinner at a local restaurant for her birthday. I was secretly planning it to be a surprise with around 20 of her friends and unknown to me she was planning to propose on the night! She was completely surprised and after we'd had dessert she pulled out the ring and got down on one knee!"
Whirlwind romance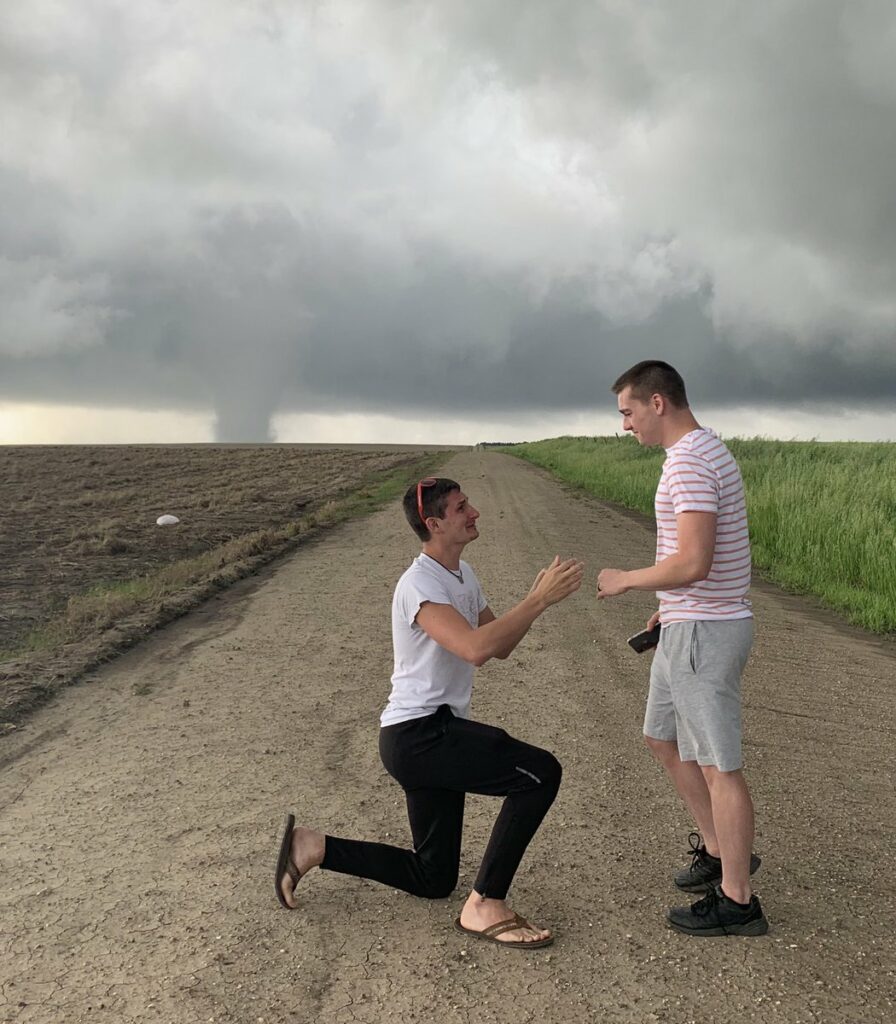 There's something electrifying about being in the middle of a storm, and meteorologist/storm chaser Joey Krastel brought that same electricity to his proposal.
When a tornado emergency was announced in Tipton, Kansas, Joey saw that as the perfect chance to propose to his boyfriend Christ Scott. He shared the amazing image of their proposal, complete with a tornado in the background, to Twitter, and followers are loving it.
According to Joey, "It was always in the back of my mind to get engaged during storm chasing. I felt like it would be this perfect way to seal the deal."
Superheroes assemble!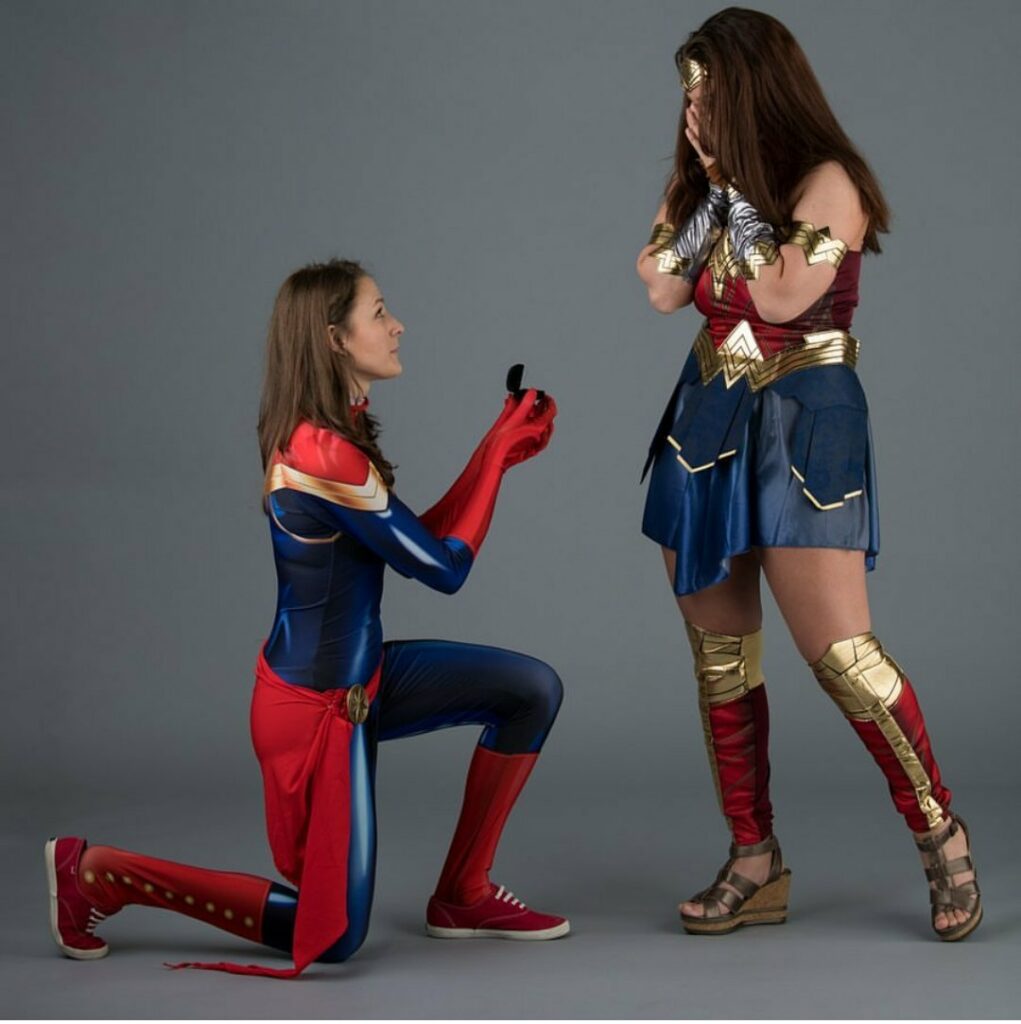 It's the superhero mashup we thought would never happen. DC and Marvel. Wonder Woman and Captain Marvel.
Longtime Ohio couple Deanna Mascia and Ashley Vansickle might have a lot in common, but perhaps nothing more so than their shared love for comic books. Which is precisely why Vansickle, 26, thought Michigan's Motor City Comic Con would be the perfect opportunity for the couple to take their commitment to the next level.

Spending months in planning, Vansickle, who dressed up as Captain Marvel for the big day, arranged a special photoshoot with photographer Susan Onysko, under the guise of a comic con memento for her and Mascia, 25, who dressed up as Wonder Woman.

Then, during the shoot, Captain Marvel dropped to one knee and popped the question.
Are you thinking of popping the question? Get in touch with the team at Max Diamonds and browse our range of same-sex wedding rings today!