For many couples, deciding what to wear on their wedding day is one of the most fun and exciting decisions they can make. Your outfit will be forever captured in photos, so you want to make sure you're styled in something that makes you feel confident and gorgeous. For straight couples, the tradition of a dress and suit for the bride and groom has been tried and tested for decades.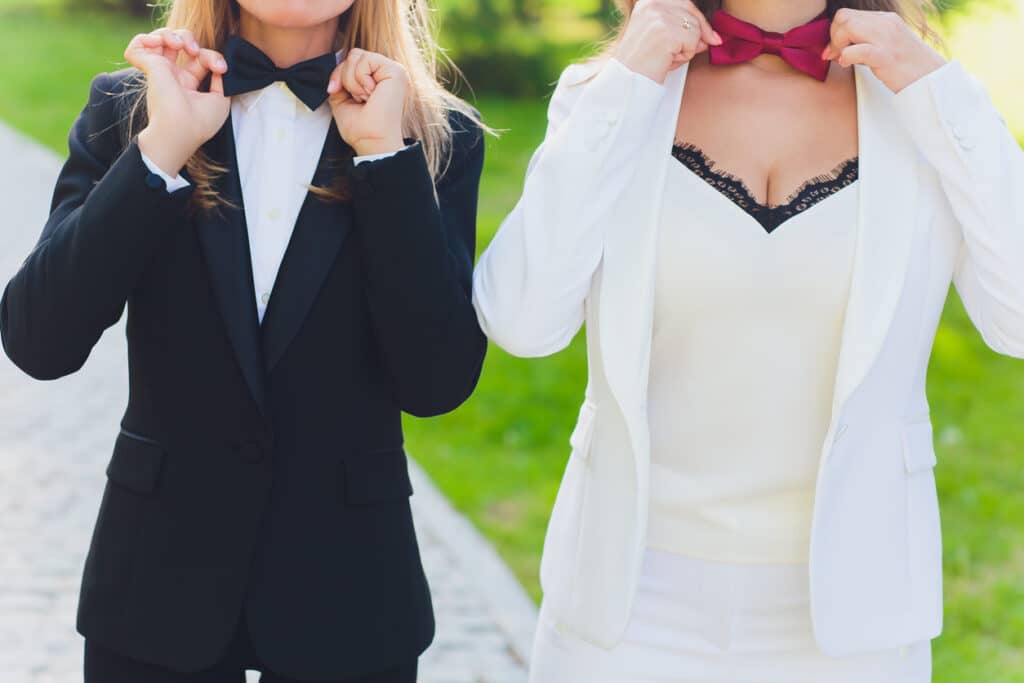 However, for LGBTQ+ couples, the rules are not so fixed – you can rock whatever style makes you feel comfortable and gives you the confidence to shine bright on your big day. Because there are so many options out there however, we have put together this handy list to help you decide what to wear on the day.
Choose a colour palette
Choosing a colour palette is an often-overlooked aspect of wedding planning but it's one that can be the most helpful. Having a colour palette will help you decide on your florals, table decorations and general styling of your wedding. It can also help with your wedding outfit! Having a colour palette is a great way to tie your outfits and looks together. You could choose to each share an item of your choosing in the same colour, wear colours of similar tones, or style your entire outfits in the same colour but in different shades.
Choose a theme
Once you have chosen a venue for your wedding, you'll have a pretty good idea of the theme you will be working with as well. Getting married in a gorgeous vineyard or forest? Your looks will lean towards the rustic and natural. Tying the knot in an art gallery or studio space? Modern chic will be more your style. Whatever theme you decide on will be a good guide as to the style of wedding outfits you choose, allowing you to wear completely different outfits while still complementing each other.
Similar style, different colours
Whether you are choosing wedding dresses, suits, or a combination of both, a great way to complement each other is with a similar style. Choose outfits that have matching lines or shapes but differentiate them by mixing up the colours for a look that is both matching and lets you stand out. These days, wedding outfits are not restricted to your standard black suit and white wedding dress, so take the chance to get creative and explore pastels, jewel tones and all the colours of the rainbow!
Twins for the win
Alternatively, you and your partner could choose matching outfits of the same style AND colour for an adorable twinning look. However, this look can be difficult to pull off to make sure you still add your own individual touches. Think about conveying your personal style with small details like accessories, jewellery, hairstyles, and makeup. Grooms can go a step further by playing with tie styles and pocket squares, buttonholes and socks!
Break all the rules
After all, it is your wedding day! Whatever you decide to wear, the most important thing is that you feel beautiful and confident when rocking your look.
Choosing your wedding outfit is an exciting part of your upcoming wedding! Make sure you have everything planned, including the rings and browse our stunning range of engagement and wedding rings for LGBTQ+ couples.