When it comes to picking an engagement ring, the love for our partner can sometimes blind us with rose coloured glasses, making us ignore the price tags. It's important to establish a healthy balance between an emotionally strong decision and an equally strong financial one.
Engagements ring options are similar to their price, in that they are undeniably personal. There is no golden rule book that lays down the law of how much you, or your partner, should spend on this unique piece. Your journey into marriage is crafted by your relationships unique story. How did you meet? What pivotal moments defined your relationship? When did you know they were the one?
The same goes for the price of your ring. It's unique to you.
But first, how much do engagement rings usually cost? The average engagement ring will go from anywhere between $1,000 to $50,000 AUD. Although this is a broad spectrum, the choice really is up to you.
Here at MAX Diamonds, we've put together the top questions we think you need to be asking to find out how much you should be spending on an engagement ring?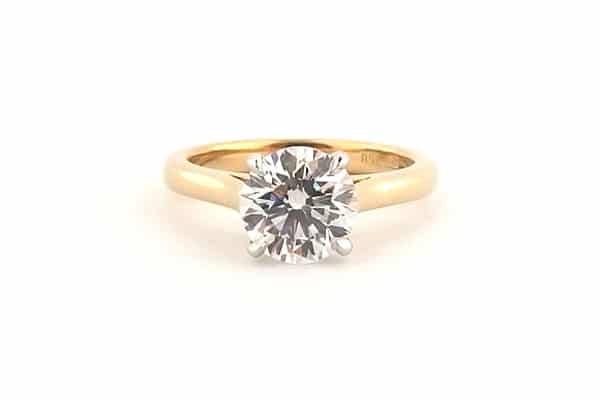 What's your financial situation?
Whether we like it or not, our wallets can sometimes override our hearts. Although we may see the perfect brilliant cut diamond ring with engraving on the band for sale in the shop window we just happen to have glanced by, a few dozen times in our lunch break. We also do need to figure out the cash first.
Assessing your budget and finances before you even begin browsing for rings is the key to deciding what's right for you, and that's certainly going to break the bank.
What would your other half expect?
As we've established, engagement rings are a deeply personal token of your love and affection. So, they must undoubtedly represent the love for your partner. What would they expect from an engagement ring? What would make their eyes widen at the sight of an enormous diamond or have them panicking about the money you spent on it? Would they love a vintage inspired piece made just for them or are they likely to want a more traditional engagement ring design?
Think back to key moments in your relationship. What tell-tale signs of your partnerships purchasing history give you clues as to what they would expect from an engagement ring?
How soon do you intend to marry?
Weddings, like engagement rings, are obviously a deeply personal event in a couple's life. Some couple prefers to get married as soon as possible. Others may wish to wait a year or two to firmly establish their relationship. There's no right choice in how quick you intend to marry, but it does affect the price of an engagement ring.
If you and your partner cannot wait to get married, and intend to do so straight after your engagement then that's going to come with some pretty big financial outlays. An engagement ring plus a wedding could cost you a real deep cut to your savings.
On the other hand, if you intend to wait a few years before your big day, you will grant yourself time to put away a decent amount of savings for your wedding. Thus meaning you can splash a little more cash on your engagement ring. Whilst safely in the knowledge that you will have time to regrow your bank account before you both say "I do".
Whatever your budget, we at MAX Diamonds have a wide variety of engagement rings. Contact us today to find out more.