Getting married is a momentous occasion. It unites two people in matrimony and demonstrates the couple's commitment to each other in front of friends, family and loved ones. In the 12 months since Australia (finally) legalised same-sex marriage, almost 5,500 same-sex couples have tied the knot across the country and countless more will inevitably walk down the aisle to exchange "I do's". So when it's time to decide on the wedding party and attire for your lesbian nuptials, just how do you decide who wears the gown?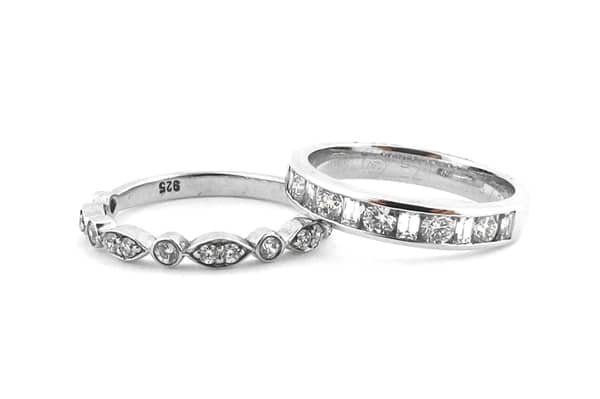 The simple answer is rock-paper-scissors.
Just kidding. Really, either party can decide to wear The Dress, or both, or neither. There's no reason that a lesbian wedding, or likewise any marriage ceremony between a loving couple regardless of gender or sexuality, needs to stick to the tradition of one person wearing a dress and the other wearing a suit or tuxedo.
In a 2014 survey with 900 couples in the US, only 36% opted for one person in a suit or tuxedo and the other in a dress. Over a quarter of respondents had both parties wearing a dress, and a smaller percentage decided that both would wear suits. This shows that lesbian weddings aren't following old, gendered, heterosexual-dominated traditions, but are rather allowing the couples to express themselves in a way that suits (pardon the pun) who they are.
Additionally, wearing a suit doesn't necessarily mean that you have to look 'manly' or give up any semblance of femininity. Many women and celebrities in heterosexual wedding ceremonies have chosen to wear suits and still look feminine and gorgeous, including Bianca Jagger in the 70s and Amal Alamuddin who wore white pants to her civil ceremony to George Clooney. And although high-profile couple Ellen Degeneres and Portia de Rossi went for the more traditional style, Ellen looked elegant and chic in her white suit with white vest.
Ultimately, it's your wedding and you should do and wear what feels right to you and what you both feel represents you as a couple. You don't need to follow heterosexual cisgendered wedding traditions if you don't feel it's right for you. Either or both of you can wear The Dress or you can similarly decide neither of you wants to wear a wedding dress. What matters most is remembering that it's your wedding day and you should both feel comfortable and happy with what you decide to wear.

For the perfect wedding, you'll need the perfect rings. Check out our fabulous range of same sex rings or get in touch with our friendly and knowledgeable team today to find out how to create the wedding bands of your dreams.