Having been around for thousands of years, eternity rings are a classic symbol of unbreakable love and life. Usually made from precious metals like gold and platinum, these rings feature gems set all the way around the band. Some will have gems only on the top half of the band, and these are called half eternity rings. But when do you get an eternity ring?
The History of the Eternity Ring
The concept of the eternity ring dates back almost 4,000 years to the Egyptian empire. Ancient Egyptian hieroglyphs dating from 2000-1800 BC often show a circle as a powerful symbol to represent eternity. The Egyptians also believed that the bond of marriage was so strong that it could not be broken – even in death.
These beliefs resulted in the concept of the wedding ring as a way to symbolise eternal union between two people. In early examples, rings were made of metal or bone, and set with stones along its circumference. Some designs also featured the ouroboros – a serpent devouring its own tail, signifying the unending cycle of life and death.
These days, eternity rings come in a wide variety of styles, with many different gems and coloured diamonds (although diamonds still remain the most popular). Some jewellers use bezel or bar setting. Others use a claw setting to show off the brilliance and sparkle of your jewels.
Eternity rings became one of the most common options for young modern couples who are into jewellery buying. As wedding bands, these eternity rings provide sentimental symbolism and a genuine sign of devotion.
You can also choose a custom made ring for a marriage mark or a promise of marriage. Protecting your diamonds is crucial in the process when opting for a jewellery design. Take pictures and secure and ownership documents for validation purposes. Diamond bands need to be protected against chipping and guarded from wear and tear.
When Do You Get An Eternity Ring
Because they can be quite expensive, eternity rings are usually given on special occasions. They are used to symbolise the time the couple have spent together (and will continue to do in the future), as well as the cycle of continuing life and rebirth, making them perfect for a range of occasions and as a luxurious gift idea.
1. To Celebrate an Anniversary
Eternity rings were traditionally given to celebrate anniversaries. It represents the length of time the couple had already spent together and looking forward to the years ahead. Your loved one will adore this shaped eternity ring showcasing 18ct white gold with a double row of diamonds.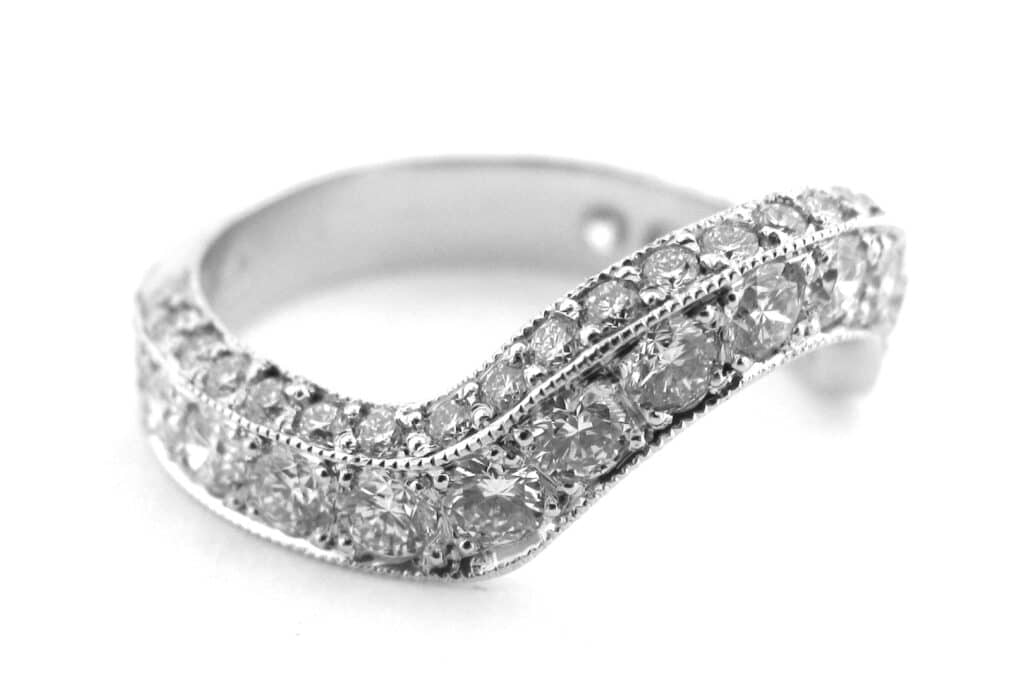 2. To Celebrate the Birth of a Child
"Push presents" are becoming more popular among couples as a way of celebrating the birth of their child. Spoil your partner with this beguiling full eternity ring handmade with 18ct white gold.It has natural round brilliant cut diamonds, a bead set, and one natural blue sapphire. We can also custom-make you a ring which features the gemstone of your child's birth month!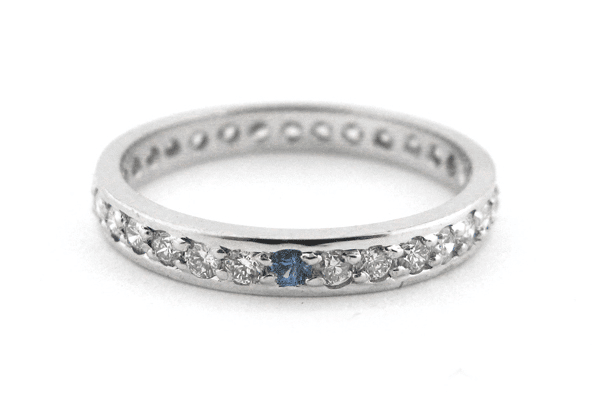 Do eternity rings have to have diamonds?
Eternity rings do not have to have diamonds. It's not a requirement. However, it's a gemstone of choice due to sensible reasons. It is a hard natural substance and impossible to be scratched. It can be scratched though by another diamond.
You can surround your eternity with diamonds all the way around to symbolize never-ending commitment. The price of a diamond eternity ring may differ, but it will always signify an eternal relationship.
What metal options are there for eternity rings?
When it comes to ensuring a strong metal that can hold gemstones in place securely, platinum is a top choice. If you use sterling silver, they may not be that strong against wear and tear. Gold is also a great choice among precious metals. Complement your style or your recipient's style choosing either white gold or yellow gold. It allows you to wear your eternity rings even everyday. To ensure your diamond will stay in place, choose platinum. Even in thin wires, platinum can hold the diamonds securely and blend in a seamless manner.
Do men wear eternity rings?
Men can wear eternity rings. In the early tradition, eternity rings were intended for women only. With the never-ending changes in fashion and countless trends, eternity rings have become accessible for men too. There are several varieties of eternity rings designed for men.
What finger do you wear an eternity ring on?
An elegant ring can either mark an unforgettable event like getting engaged or getting married. You may know exactly where to put on your engagement ring and which finger to insert your wedding ring. But where exactly do you wear your eternity ring? Which finger do you use?
There is no strict way to wear an eternity ring. You can decide to wear it anyway you want. Commonly, it is worn on the left hand. It can be placed on top of your wedding ring and engagement ring. This will make an aesthetically pleasing sight to look at especially if all of your rings work together.
Another way of wearing it is by placing the eternity ring between the wedding ring and engagement ring. This would still be on the left ring finger. Most of the time, wedding rings and eternity rings resemble each other. They can certainly blend well with each other producing a sophisticated look.
If it becomes uncomfortable wearing three rings on top of each other, some women place the eternity ring on the right hand's ring finger. The thickness of the band can affect the comfort so it's best not to stack them all together.
There's really no right or wrong when it comes to wearing an eternity ring. Some people even wear it as a pendant so it's really up to you.
Can you give an eternity ring before marriage?
You can give an eternity ring even before marriage but it is viewed as a promise ring. Traditionally, eternity rings are to mark a special occasion like surpassing years of marriage.
Here at Max Diamonds, we love matching people with the perfect ring. Get in touch with our team today to browse our range of eternity rings!