As a diamond grader, office manager, and personal assistant, Robyn keeps a sharp eye on making sure the MAX Diamonds team runs smoothly.
My typical day
Most mornings I get up early and go to a pilates class, then head into work to help put out the jewellery and answer customer enquiries. Once I'm caught up, I see clients, visit with the jeweller to discuss designs, and if I have any customers who want a coloured stone in their custom jewellery, then I'll visit the coloured stone suppliers and choose some pieces to show the client. I love dealing with the coloured stones – diamonds are beautiful too, of course, but the coloured stones are so varied and interesting.
At the end of my day, everything has to be packed up and put away in the safes, only to come out the next day and start all over again.
How did you get started in the jewellery business?
I initially came to Gemtec as a Personal Assistant to Mr Lane. Gemtec is the holding company for MAX Diamonds, Clifton Opal and other businesses. So, when Alex came on board and created the diamond side of the business, Mr Lane asked if I would be interested in doing the Diamond Grading and Jewellery Design course at the Gemmological Institute, and I jumped at the chance. Now diamond grading and jewellery design is the main part of the work I do.
Tell us a bit about what you do.
I interview clients and then create a job with our skilled jewellers to transform the client's requirements into a custom piece of jewellery. I also act as Mr. Lane's personal assistant and office manager.
What's the most rewarding/your favourite part of your job?
I love meeting new people and finding out more about what they're looking for in a dream item of jewellery, so easily my favourite part of the job is when I can meet a new customer and create the perfect piece of jewellery that makes them happy. It's such a rewarding feeling knowing that they're going home with jewellery that they love and will cherish.
What's the most challenging part of your job?
When choosing jewellery, it's always important to be open to alternatives and do a little research to see what options are available and what's in your price range. So, if a customer wants a gorgeous diamond, I always want to help them find something that fits within their budget but also meets their expectations. It might be that the customer realises a coloured diamond or coloured precious gemstone suits them better. There are always ways to get a beautiful piece of jewellery that's within your budget, it just requires an open mind and a little bit of guidance from the experts.
What's the most interesting experience you've ever had?
In my career, I've been lucky enough to meet lots of interesting people and help them design their perfect item of jewellery. One that stands out is when I created an amazing pair of same-sex wedding bands which were made from gold nuggets and dust and Australian Sapphires that my client's father, who I now deceased, had mined himself. It was an amazing result; the rings were completely unique, and they had such significance that I felt very honoured to be involved in the process; they were a fabulous couple to deal with as well – see image below!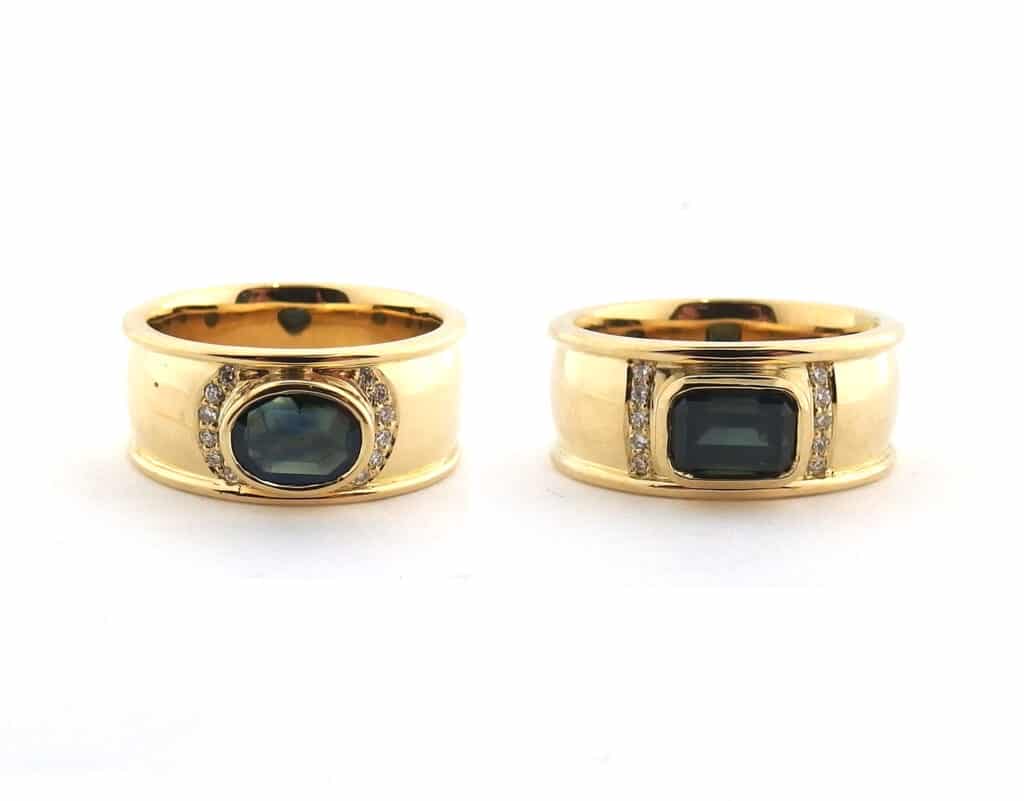 One personal experience was designing a home that we built including the interiors and garden design which I absolutely loved!
What's involved in being a diamond grader?
Using some tools of the trade along with my experience, as a diamond grader, I need to be able to spot a real diamond from a cubic zirconia or synthetic moissanite, see the inside and outsides of a diamond to be able to rate its clarity, and be able to look at a diamond and identify the cut and colour based on markings and other features. Being a diamond grader involves a lot of patience and high attention to detail.
Where do you get your inspiration for the design?
My inspiration usually comes from the client's input as I strongly feel that because the jewellery is their passion, they have to love it and feel comfortable wearing it. We have stock rings in designs that we like but each client has different tastes, and at the end of the day, you want them to be thrilled with it.
What's your favourite piece that you've designed?
I have so many favourite pieces it's almost difficult to choose just one! But I have quite simple tastes in jewellery so when I did a really beautiful and elegant emerald cut diamond ring with tapered baguettes on the sides I absolutely fell in love with it. It's a classic style and one that never gets old.
If you could have any piece of jewellery in the world, what would it be and why?
That changes from day to day because I love so many different pieces out there, but I what I'd really love is a simple yet elegant pair of diamond stud earrings, as they're something that you can wear anywhere, any time.
For expert diamond grading and custom jewellery, get in touch with our friendly team today.