While many brides still love the classic diamond solitaire engagement ring, the past few years have seen a resurgence in coloured gemstone engagement rings. Sported by royalty and celebrities, engagement rings featuring sapphires, rubies, emeralds, and even coloured diamonds are taking centre stage.
But what exactly should you take into account when buying a coloured gemstone engagement ring? We answer all your questions here!
What features should I look for when buying coloured gemstone engagement rings?
There are many factors to consider when buying a coloured gemstone, but the two most important ones are Colour and Durability.
Colour:
How do you pick a good coloured gemstone? When it comes to coloured gems, Colour (as opposed to Clarity, Cut and Carat) is the most important factor. From the verdant greens of an emerald to the fiery depths of a ruby to the tranquil waters of a sapphire, there's an entire rainbow to choose from. Each tone has its own classification of Hue (the dominant colour), Tone (how light or dark the stone is) and Saturation (the intensity of the colour), but we recommend just focussing on the particular colour that you like the most.
Durability:
After colour, one of the main things you'll want to consider when choosing your gem is its durability. Different gemstones have varying properties and each of them will withstand heat, light, humidity and daily wear and tear differently. The Mohs scale ranks the hardness of your gem on a scale of 1 to 10, with 1 being the softest and 10 being the hardest. For example, gems like sapphires and rubies are ranked 9, making them ideal for engagement rings. On the other hand, pearls are only rated a 2.5 – 4.5, so require a greater amount of care.
What is the best setting for coloured gemstone engagement ring?
The fantastic news is that when it comes to coloured engagement rings, you have a wide variety of options available. Coloured gemstones come in all shapes and sizes, which means that questions like: "What are ideal proportions for a coloured gemstone?" or "What is the best clarity for my coloured gem?" or "Should I choose a princess cut?" no longer matter! The setting for your engagement ring gives you an opportunity to be creative, and truly tailor your ring to your personality – so why not choose something a little bit different?
Three-stone engagement ring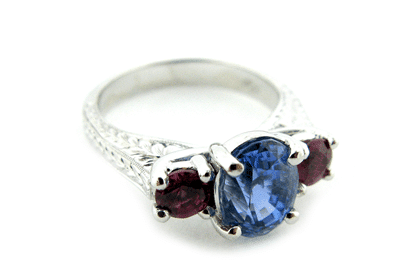 Rich in symbolism, the three-stone engagement ring dates back to at least the 17th century and is said to represent the past, present and future. Lovers who wear these rings are proudly proclaiming to the world that their love is eternal. Of course, you can also use the three stones to represent different aspects of your relationship: your birthstones, the month you met, the birth months of any children you may have, or other dates that are important to the both of you.
Check out: Our Ruby and Sapphire Three Stone Ring featuring one natural ceylon blue oval cut sapphire weighing 2.32ct with two round rubies weighing 0.60ct total.
Halo engagement ring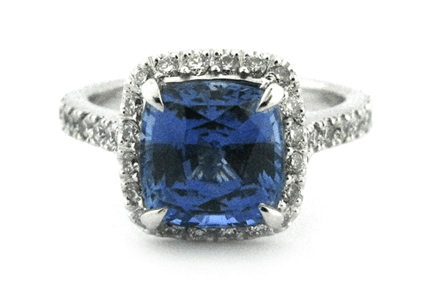 Over the past few years, halo settings (which feature a circle of gems around a centre stone) have been increasingly popular due to their sparkle and ability to make the centre stone look larger. Perhaps one of the most well-known halo engagement rings these days is Kate Middleton's sapphire surrounded by 14 diamonds.
Check out: Our Sapphire and Diamond Halo Ring featuring one natural cushion-cut ceylon sapphire weighing 3.14ct with a halo of 0.01ct billiant cut diamonds and 0.015ct round brilliant cut diamonds set in the band.
Are you looking for a gorgeous coloured gemstone engagement ring to celebrate your marriage? Get in touch with the team at Max Diamonds today or visit us in-store to view our range or ask about our coloured gemstone prices.