Just because you are staying home (and safe!) doesn't mean that you can't think of some very creative and impressive proposal ideas. Here are some we have come up with that would definitely impress.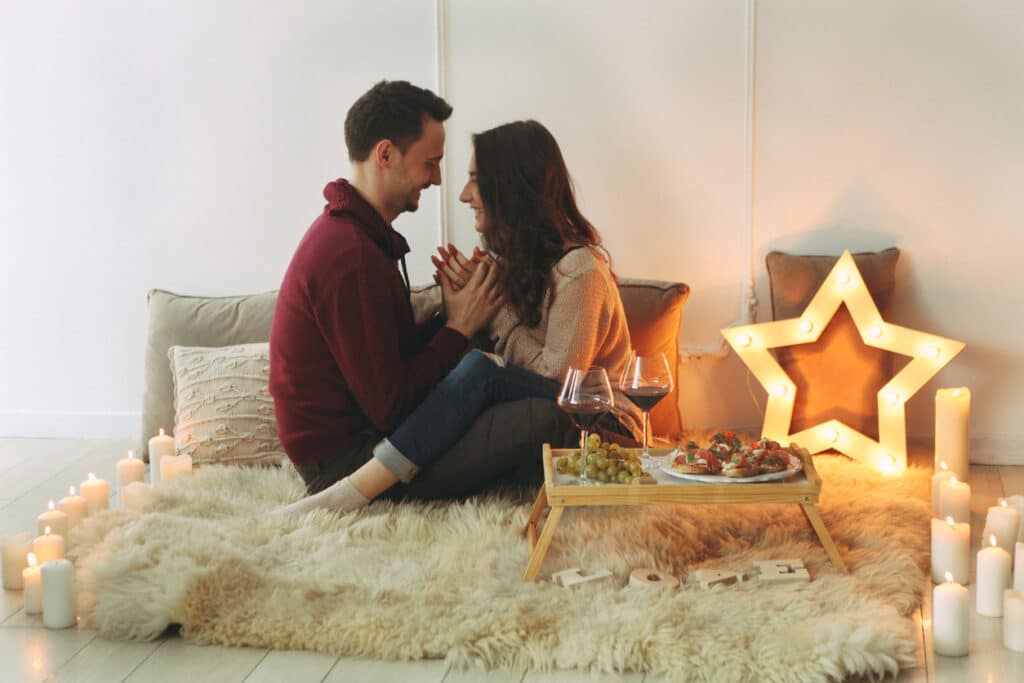 1) Gourmet Meal
Buy all the ingredients for your partners favourite meal, then set the table, light candles, pop some nice champagne, create a menu to give to them (they will want to keep this forever!) and prepare a delicious feast, with the ring appearing in the dessert, in the champagne glass or the classic bended knee by the table. If cooking really isn't your thing you could order in from one of the many great restaurants that are now offering home delivery.
2) Rose petal Trail
After your partner has gone for their exercise outside, you could leave a trail of rose petals from the front door when they arrive, leading to different rooms, with a clue or memory, or small gift at each stage… as they follow the trail eventually it leads to…. You! Waiting there, bended knee with your ring ready and that all important question….. (Have some bubbly on hand ready to celebrate)
3) Treasure Hunt
Leave clues that your partner has to solve and a treasure hunt – this an all be done indoors – you can be as creative as you like…. "Take as many steps forward as years we have been together, then turn left" "Open up something in the pantry that starts with the same letter of the first restaurant we went to" Once they solve the clues, they are offered the "treasure"!
4) Local Dog walk
You may laugh but this is how I was proposed to, and I was thrilled! Take your dog for a walk around your favourite local park at sunset or when there is a bright full moon.. Choose a beautiful scenic spot, bend down and ask! (just be careful your pooch doesn't knock the ring out of your hand!)
5) For The Creative Soul –
Recreate the first date or the time you met with props at home. You could make this as detailed as you like, or just use whats on hand with props, signs, boxes, signs, whatever you can get your hands on.
6) Romantic Slide Show
Create a slide show of photos of the two of you, all the dates and memories together – then the last image is you on bent knee.
7) Zoom Friends Trivia Night
Get friends involved in a zoom trivia night. Someone can ask the question for you!
Can you think of any other ideas?
If you need the ring, we can help! We are offering contactless social distancing appointments and also zoom consultations, we have already helped several customers create some beautiful rings during March, April and May.
Let us know if you would like to have a chat, we'd love to help.