So you've decided to tie the knot – congratulations! For many people, becoming engaged is an exciting and momentous time in their life. For members of the LGBTQ+ community however, it's an occasion that's even more special because it represents the ability to live and love freely after being denied the basic rights of marriage for so long.
And so, many LGBTQ+ couples also look for ways to show off and celebrate their union, reflecting their pride through pieces of jewellery like wedding and engagement rings. If you're looking for a way to wave that rainbow flag, there are plenty of stylish options available!
Celebrate the rainbow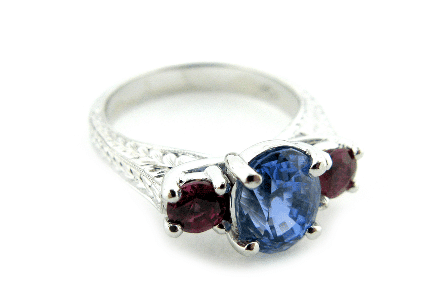 One of the most obvious ways to fly that Pride flag is with a ring that incorporates all the colours of the rainbow spanning from red, orange, yellow, to green, blue and purple. It's an iconic symbol and a great way to pay tribute to your personality and the community you are a part of. However, a multicoloured ring may not be for you. If you'd like something a bit more subtle, why not just incorporate two or three colours? (This is particularly ideal for members of the trans community who may wish to alternate blues and pinks).
Why not look at something like our Ruby And Sapphire Three-Stone Ring? This ring features a natural Ceylon blue oval cut sapphire weighing 2.32ct, claw set into a handmade 18ct white gold three-stone ring with two round rubies weighing 0.60ct total.
Pinks and purples
If you'd like to opt for a single colour, there's also nothing more charming than a pink or purple jewel. The pink triangle has historically been used as a symbol for a range of LGBTQ+ identities and was originally intended as a mark of shame but later reclaimed as a symbol of pride and positive self-identity. Meanwhile, purple has been closely linked with bisexuality, with the purple hand behind used during Pride parades and demonstrations.
Take a look at our Pink Cushion-Cut Sapphire which features a natural pink sapphire weighing 4.12ct, claw-set in a handmade 18ct white gold ring with 72 x 0.01ct pave set brilliant cut diamonds. Meanwhile, our Purple Sapphire Three-Stone Ring features a natural cushion-cut purple sapphire weighing 1.46ct four claw set in an 18ct yellow and white gold ring with 2 = 0.36ct pear shape diamond side stones.
Try a triangle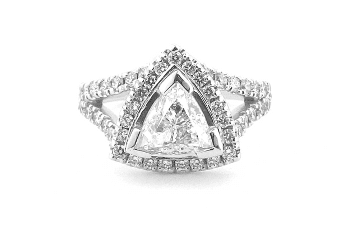 Speaking of pink triangles, the triangle shape is another fantastic way to subtly show off your LGBTQ+ pride while still retaining a more classic ring design. The use of the triangle as a reclamation of the symbol initially used in World War II to identify gay men first appeared in the 70s in a TIME story about gay-rights activists in Miami who attached the symbols to their clothes as a show of solidarity. Since then, pink triangles have appeared in protests and parades all over the world.
If you'd like to show your solidarity, why not consider something like our Trilliant-Cut Diamond Halo Ring? It features one natural trilliant-cut diamond weighing 1.01ct and is set in a handmade 18ct white gold engagement ring with 0.01ct brilliant cut diamonds in the halo and split shank band.
Meaningful engravings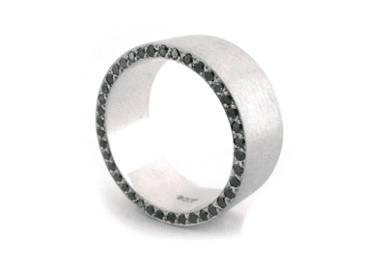 For those of you who want a wedding and engagement ring that speaks to you but has a secret message, not consider an engraving or symbol? For example, wedding bands for gay couples sometimes include intertwined Mars symbols, while wedding rings for lesbian couples sometimes feature triangles.
A ring like our White Gold Ring With Black Diamonds features an 18ct white gold ring with bead-set black diamonds set on the side of the band and is the perfect vehicle for an intricate engraving that speaks a message close to your heart.
Whatever ring you decide on, the team at Max Diamonds is here to support you. Take a look at our collection of LGBTQ+ wedding and engagement rings or get in touch with us to browse our entire range.