When we hear the word 'investing', we often think of real estate or stocks rather than classic, timeless jewellery. But high quality jewellery makes a timeless investment piece that can be passed down as a family heirloom from generation to generation.
If you're looking for a piece of high quality jewellery to last forever, then it's important you first research all of your options. Then, when you finally decide on your perfect piece of jewellery, you are sure to have something that you and future generations are guaranteed to treasure forever.
Here are 4 essential pieces of diamond jewellery that every jewellery box should contain.
Diamond stacking ring


Diamond eternity and half eternity rings are a staple for any outfit. While they are typically considered a wedding anniversary gift, the tradition behind diamond eternity rings has broadened over the years and now anybody can enjoy their distinct elegance. As a much-sought after piece, diamond eternity rings are ideal to sit alone on your finger or be stacked with complimenting rings.
The eternity ring market offers countless amounts of different cuts, metals and settings. Before you invest in an eternity ring, it's important that you first answer some questions. Are you after a channel, pave or bezel setting? Do you want to maximise the sparkle of your diamonds by incorporating less metal into the ring? Or do you want to space out the diamonds with additional metal?
If you think a diamond stacking ring could be your next piece, explore our page on eternity rings for more inspiration.

Claw set diamond stud earrings


There's a reason why claw set diamonds are considered an essential jewellery piece. While drop earrings and chandelier earrings may look gorgeous when worn to extravagant events, claw set diamonds are ideal for any time of the day. The secure backing makes them safe for constant wear and are versatile enough to be worn to the gym or to evening cocktails.
It's safe to say that when wearing a pair of claw set diamond earrings, you never have to worry about being overdressed or underdressed. 
While at first glance it may appear that diamond stud earrings don't offer much variety, there is in fact a fine art to choosing the perfect pair. Diamonds come in all shapes, colours and sizes, with some being vastly more valuable than others. 
Before you purchase your next pair of claw set diamond stud earrings, it's recommended that you research the four Cs of your potential diamond investment: carat, cut, clarity and colour. Depending on how valuable you want your pair of diamond studs to be, there are a range of options available that are suited to every budget.
Claw set diamond pendant

There are few pieces of jewellery more timeless than a classic claw set diamond pendant sitting against your neckline. 
Paired with a fine white gold chain, a claw set diamond pendant will match every outfit in your wardrobe.
Claw set diamonds sit well on choker, princess or matinee pendants. No matter what neckline your outfit has, you can be sure that it will be enhanced with a diamond pendant resting on top of it. 
Diamond tennis bracelet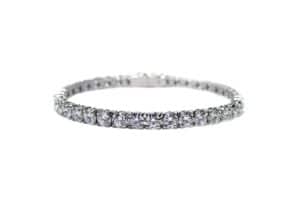 A major part of the allure of diamond tennis bracelets is their sheer and rare opulence.
Diamond tennis bracelets are a statement piece that doubles as a truly memorable gift. A diamond tennis bracelet can elevate any outfit to the next level, surpassing trends, age and lifestyle.
The name 'tennis bracelet' may sound strange to those unfamiliar with this sought-after piece of jewellery. The name's origin harks back to the 1970s tennis player Chris Evert, who would often be seen on the court wearing a diamond bracelet.
If you're interested in purchasing a piece of jewellery that will be treasured by you and your family forever, then consider a classic diamond tennis bracelet.
Make your next jewellery piece a quality one
When considering the purchase of diamond jewellery as an heirloom piece for you and future generations, then it's important that you choose a high quality piece that has been crafted to last.
Our custom jewellery makers in Sydney specialise in luxury jewellery crafted from high quality, conflict free diamonds. Book a consultation today and start your journey to discovering the ideal investment piece, whether it be a ring, bracelet, necklace or pair of diamond earrings.